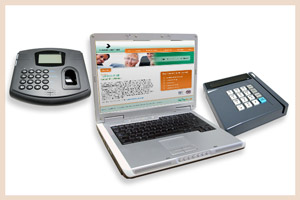 Automated Timekeeping: A true Investment Opportunity
What most business owners don't realize is that an automated timekeeping solution will not only pay for itself year after year, but it will also return immense savings. These savings stretch far beyond simply recovering the cost of the service in the form of reduced labor costs. They eliminate human error costs, payroll staff costs and additional time for all staff members involved in payroll preparation each pay period. Employee punches are seamlessly integrated into the system, eliminating time spent keying in and manipulating data.
Convenience vs. Savings:
Many companies consider an automated timkeeping system in order to upgrade to digital time tracking system. The benefit of doing so is that an automoated timkeeping system helps to eliminate time "leakage" resulting in savings in labor costs.
Standard Terminals:
Simple setup- within minutes
Easy data collection: Card Swipe; PIN
Automatically transmits time data to database up to 3x/day
Biometric Clock:
Transmits punches/time data in "real time"
Biometric scan capability can be included/added to eliminate "Buddy Punching"
Web-Based time keeping solutions
Employees can clock in and out on the Internet, no hardware needed
Data editing and reporting conveniently performed on the web
Immediate access to employee time data
Employees can view their time cards online
Features & Benefits Include:
Employee scheduling and rounding
Automatic daily lunch deductions
Supervisor login access (limited access login)
Holiday pay settings
Labor distribution
Overtime settings
Utilize enhanced and automatic time tracking capabilities
Increase company's bottom line and profitability
Minimize wasted labor minutes
Reduce human error, the cost to reissue paychecks, and employee dissatisfaction
Enhance reporting capabilities for employee labor worked
Reduce the overall cost of employee labor