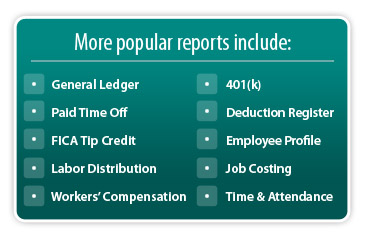 Input options:
Payroll options:
Direct Deposit - This method of pay is convenient for employees. Our system allows employees to distribute money among an unlimited number of accounts.
Tax Filing - File all Federal, State and Local returns on your behalf.
Paperless - Turn off pay vouchers and reports from printing.
General Ledger - This interface enables clients to export detailed payroll information, making the input seamless and straightforward.
Benefit Accruals - Can be calculated and tailored to your needs. The balances will post on employee pay stubs for easy viewing.
Employee Self Service - Allows employees to view and print pay stubs and W-2 forms (after year-end), as well as view a report outlining their pay information and history for a specific date range.
Manual Check Writer (gross to net or net to gross) - Enables you to cut a check immediately if an employee needs to be paid early or if terminated employees need to be paid before they leave the building.
Report Options
More than 800 standard reports are available which can be run for any date range and sorted on a variety of criteria. Reports can be exported into Microsoft EXCEL, if desired for additional sorting and grouping.
Custom reports also can be created quickly and easily, selecting and sorting on desired data fields.


Be sure to ask about our suite of products and services